Hello, friends.
Recently I am interested with sand simulation, and I read several papers and a few examples."Drucker-Prager Elastoplasticity for Sand Animation" and "Multi-species simulation of porous sand and water mixtures".Both of them give me more ideas. And I noticted that, the Drucker-Prager model is used for the sand simulation. And it is refered by Mast thesis. But there is some simplify points, so is it still as same as the constitutive model in the soil mechanics. I am confused with the Project function.
And I'm also working on the algorithm development of MPM, I tried to add the sand model and set a hourglass model. The results show that it looks like the fluid (shown in the following figures). I just set the friction angle as 35° and use harding parameters and cohesion as 0.
[I used the GIMP shape function]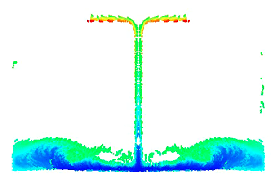 BTW, I noticted that there are two algorithms named as sand in the taichi, and the Project funtion are different.
Anyone have any idea about the constitutive models, how should I compare it with the soil mechanics. and why the sand simulation results looks like fluid~
Thanks a lot.